shiftability
Red X gives you the ability to fine tune your board with the full range of fins and the reliability of a solid system. It's simply a
better choice.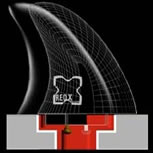 3/4" (2cm) of movement
Putting the cluster of fins closer together loosens up the board while positioning them further apart makes the board stiffer.

TIP: Move your fins only 1/8" (3mm) at a time because a little bit of movement makes a big difference.

TIP: Move the center fin forwards for smaller, faster conditions and then back for down the line surfing.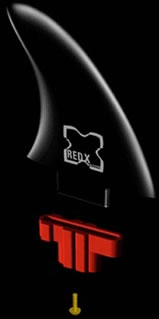 rock solid lock
The Red X fin system is simpler, lighter, faster and stronger than any other fin system.
Solid fin bases give more drive and performance increasing speed.
Rigid fins combined with a powerful tip flex equals more speed and drive.
The simple screw in system uses stainless steel fittings that never wear out. This pulls the fins tightly into the surfboard with a security you just can't find using other systems.
No specialised gear is needed - nothing but a single blade screwdriver.